News & Public Information
What's Now | What's Trending
News & Public Information
What's Now | What's Trending
News & Public Information
What's Now | What's Trending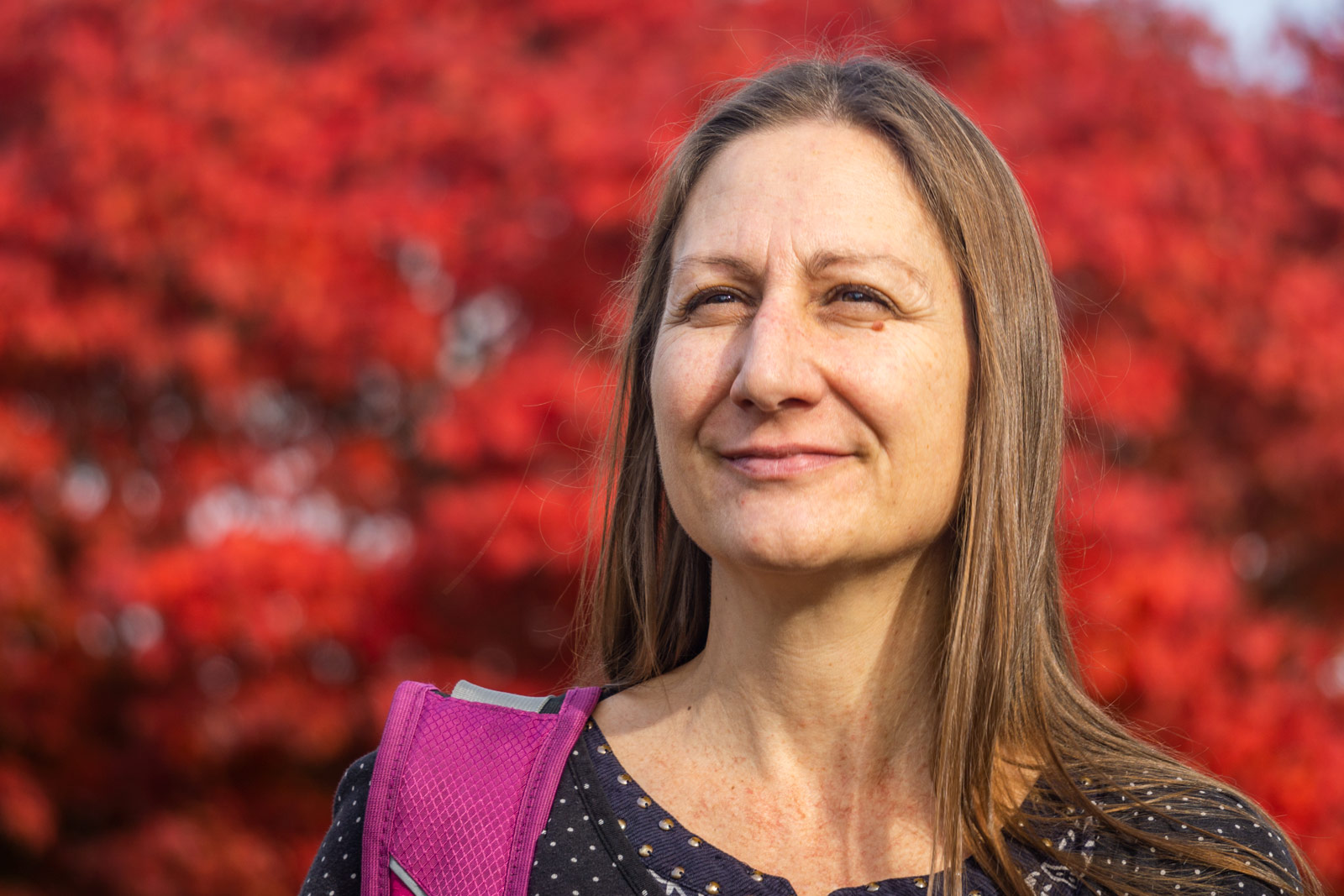 "I am currently working on my Bachelor of Applied Science in Environmental Conservation degree at SVC. I am passionate about environmental issues and have been involved in many different organizations: from stewardship groups to advocacy non-profits. I aspire to improve life on this earth for all to enjoy and I believe that the education provided by the environmental program at Skagit Valley College will help me toward the fulfillment of this challenging task. I found my passion late in life and working in this new field is giving me new energy and a feeling of belonging. Being a single mom, it is not always easy to go back to school without significant funding. The scholarship that I received from SVC is making a huge difference."
Karin Porrini
Bachelor of Applied Science in Environmental Conservation Student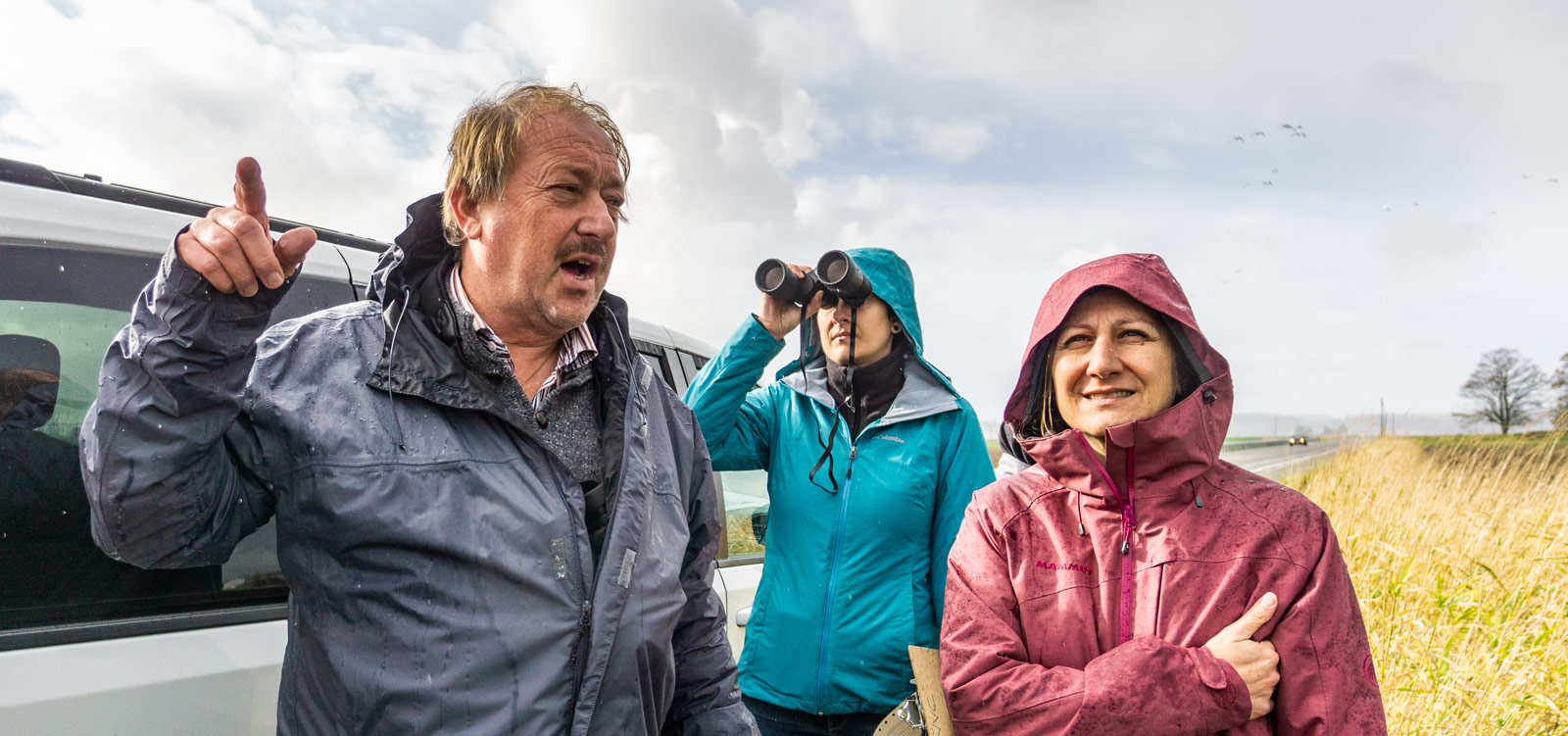 Claus Svendsen, Department Chair of Environmental Conservation, pointing out geese behavior in the farmlands of Skagit County.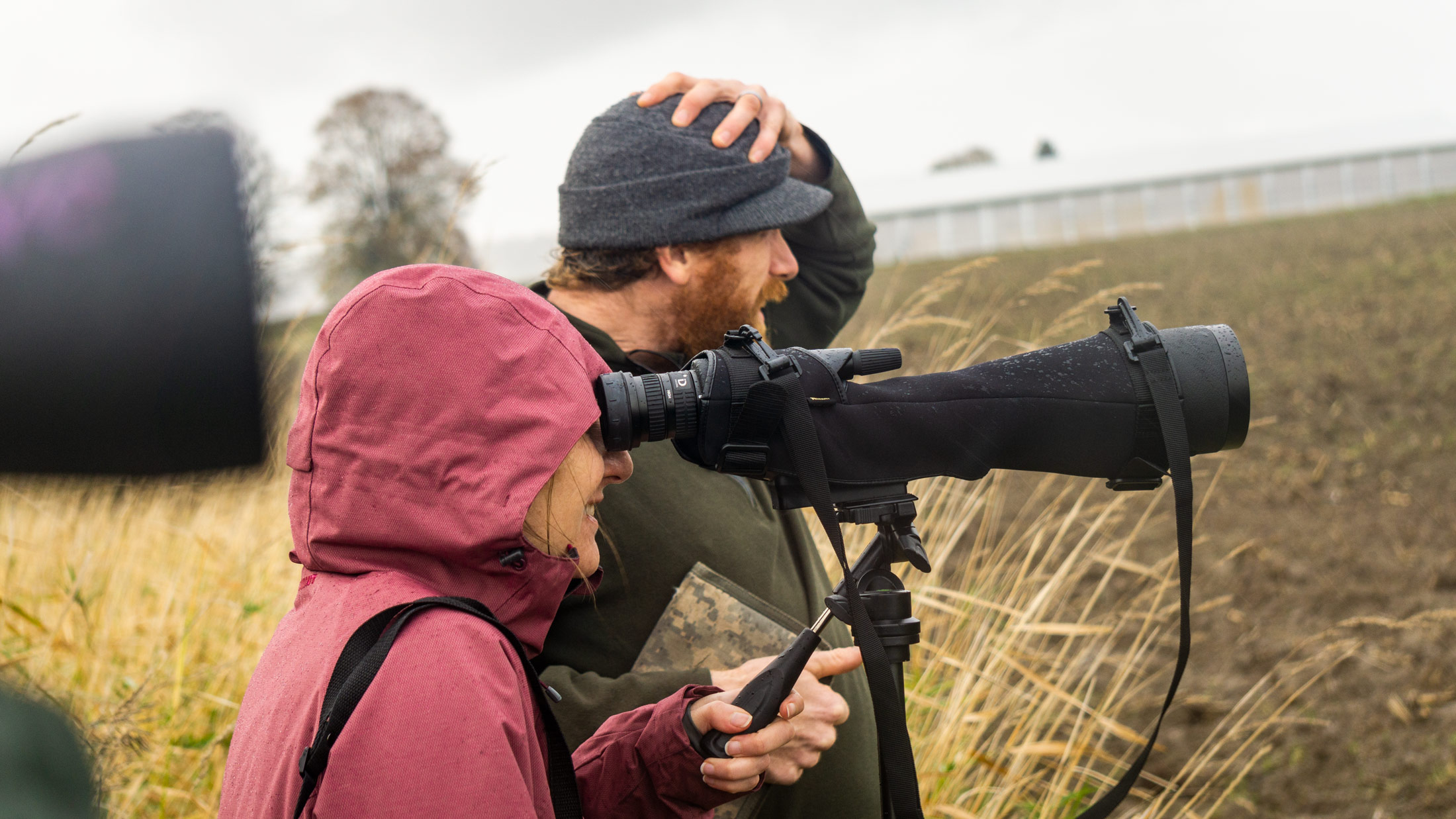 Karin observing migratory geese.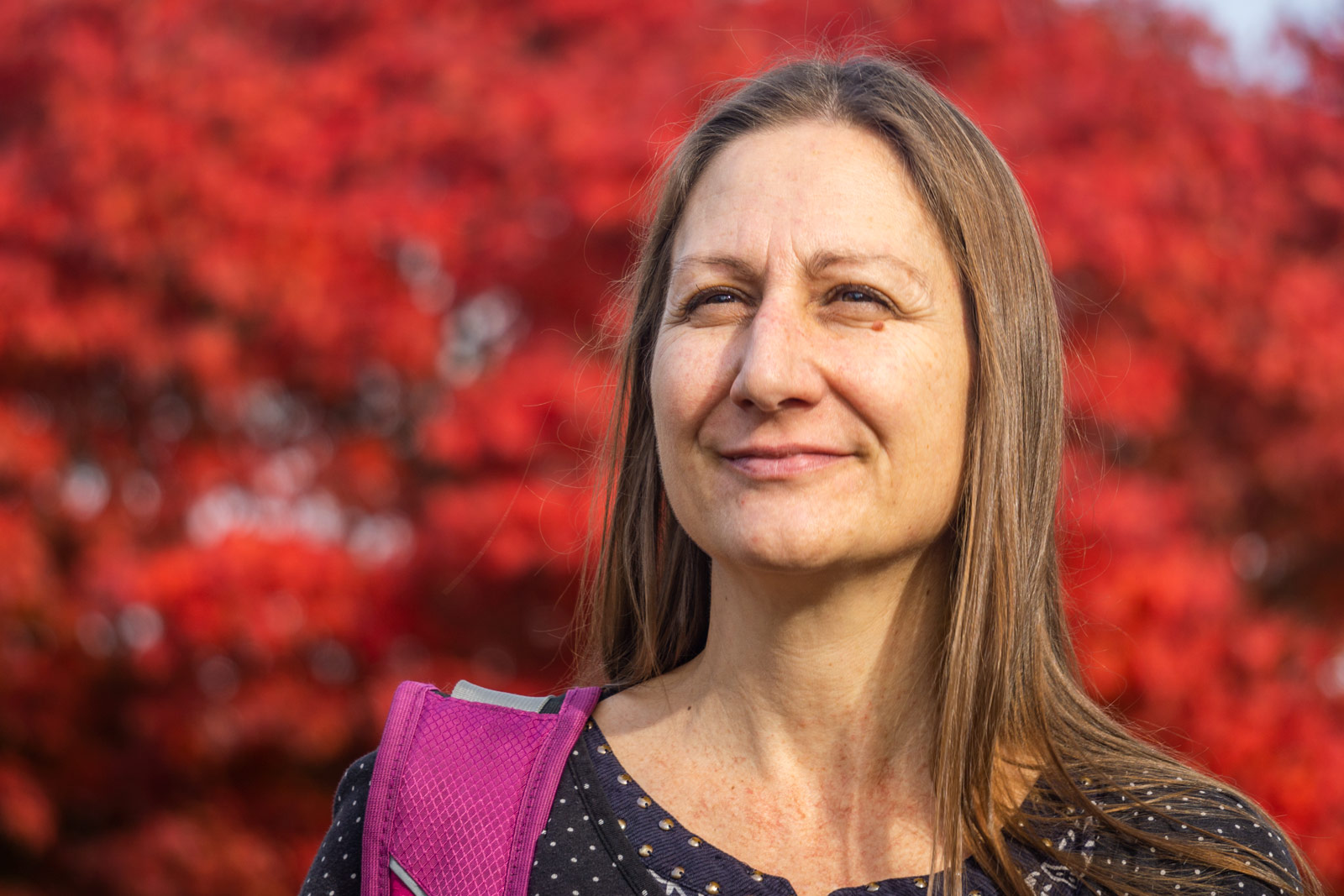 "The best part of SVC for me has been the people. I love interacting with my fellow artists every day. We meet up and have art parties, we hangout and have picnics, and do two-mile runs! And, I love hearing their stories; they have the best stories! Before I left the military, I didn't think I would find the sense of camaraderie that I have. I've made some really great friends here. Without hesitation, I will also say it's the instruction that I've received that stands out. The teachers are the greatest! They support your vision, they challenge you, and they provide avenues to real-world success. It only helps that they are each successful in their own right."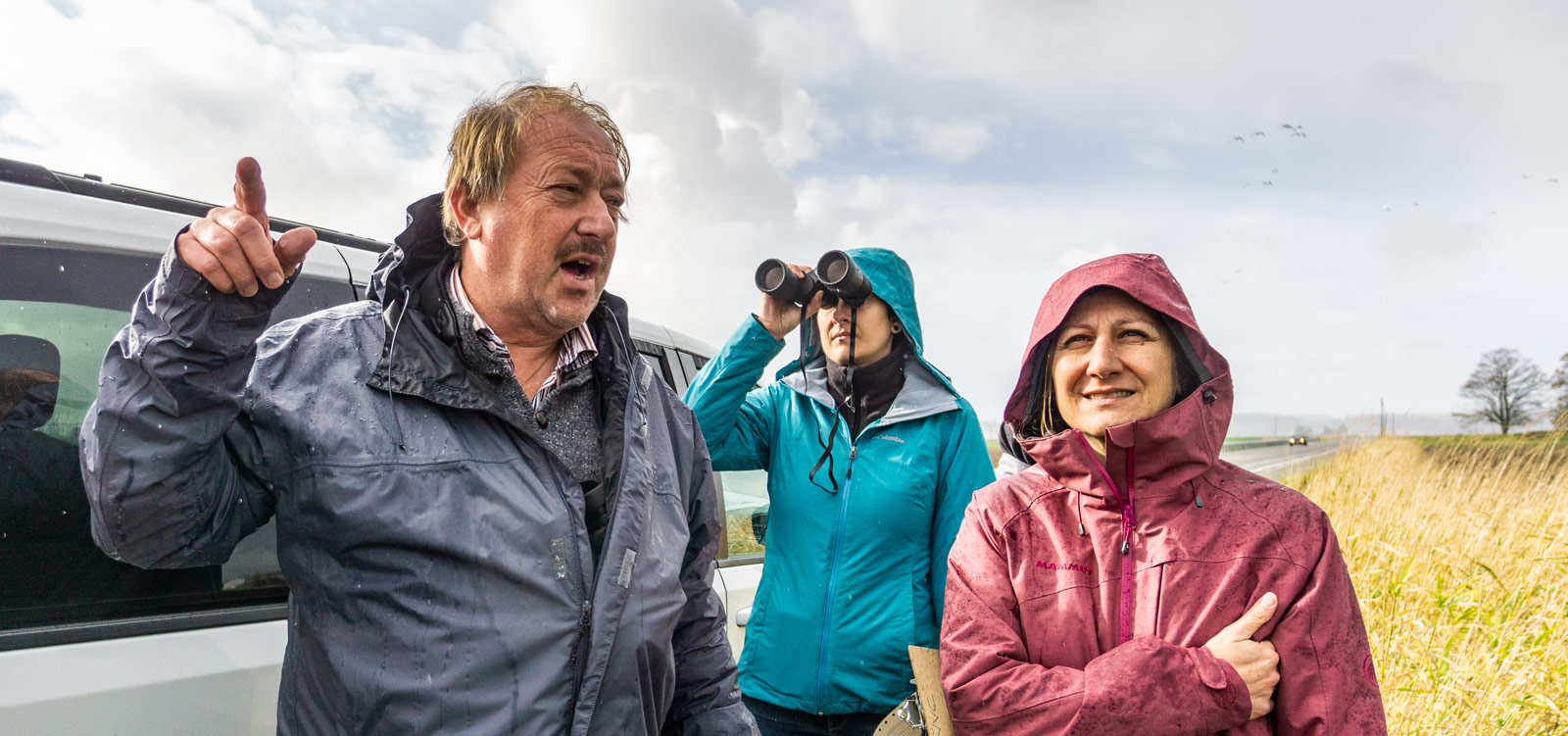 Karin and Claus Svendsen observing migratory geese in the farmlands of Skagit County.
"Well, I've already talked about the quality of the teachers and their instruction, but more than that, the opportunities that SVC gave me have been outstanding. I've been able to perform work-study at the Art Gallery for the past year, installing shows and working with other artists. I was able to get paired with a local artist and 'learn the ropes' from a pro. This Artist Mentorship program was started by a former SVC student, Katie Walton. I have also been able to compete in several juried art shows to get experience submitting to gallery showings. I have been given solid footing to advance in my art career and continue my education. I graduate from SVC with an Associate in Visual Arts degree and have been accepted to Western Washington University where I'll be applying for a Bachelor's in Fine Art. My ultimate educational goal is to attain my Master's in Fine Art and I'm looking into Emily Carr University of Art + Design." Ken Estes Associate in Visual Arts, 2018