News and Public Information
What's Trending
News & Public Information
What's Now | What's Trending
News & Public Information
What's Now | What's Trending
PACCAR donates engine to Skagit Valley College's diesel power technology program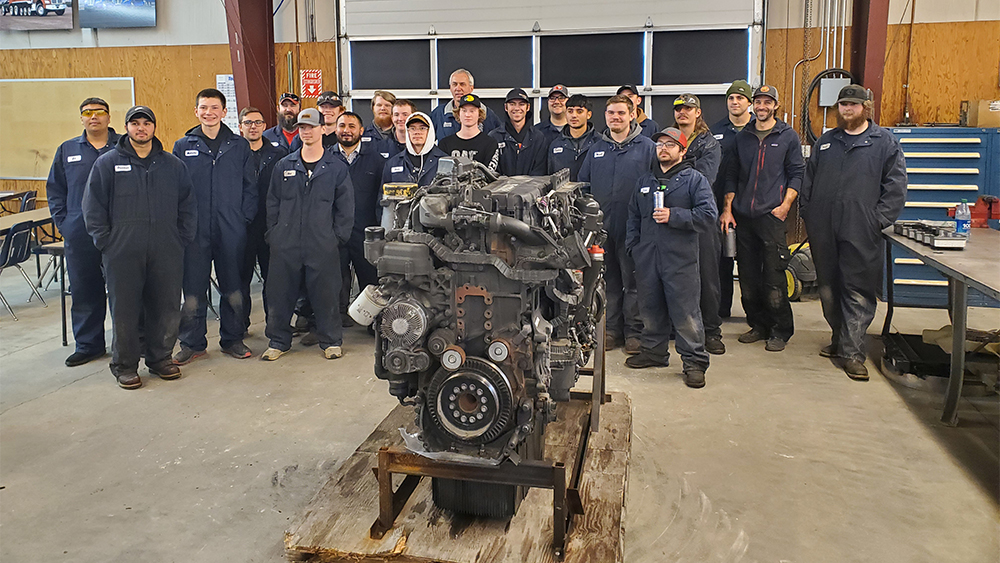 PACCAR, a global leader in the design, manufacture, and customer support of light-, medium-, and heavy-duty trucks, has donated a diesel engine designed and built by the company to Skagit Valley College's diesel technology program.
The engine will provide countless hands-on learning opportunities for SVC students and provide an opportunity to learn on some of the newest technology in the industry.
"There have been dramatic changes in the technology over the past decade, especially in areas such as emissions," said Bernie Andringa, senior instructor in SVC's diesel power technology program. "Having access to the latest diesel engine design keeps us up to date and ensures that our students leave the program with a competitive skill set."
The relationship between PACCAR and SVC goes back decades beginning with Jack Whiting, who established the college's diesel power technology program with the goal of turning out competent diesel engine technicians.
"In addition to engine donations, PACCAR's technical team spends time with our students, sharing insights not only on technical issues, but also on career opportunities and the future of diesel technology," said Andringa.
In return for its support of the program, PACCAR has benefited from access to the next generation of diesel expertise.
"Over the past several years, more than twenty graduates from our program have ended up working for PACCAR," Andringa said.
Andringa also noted that demand for skilled diesel technicians is particularly strong.
"The industry has been taking whatever we can supply, and a lot of our students are already employed," said Andringa. "They go to school in the morning and to work in the afternoon."
Headquartered in Bellevue, Washington, PACCAR also has a Technical Center in Burlington where they develop and test new technologies. The company and its employees' charitable contributions demonstrate a strong commitment to the communities in which they work and live. The PACCAR Foundation grants millions of dollars each year for education, social services, and the arts.
To learn more about the PACCAR diesel engine donation, contact Brad Tuininga at the Skagit Valley College Foundation, at [email protected]. To learn more about SVC's diesel power technology program, visit skagit.edu/diesel-power-technology.
Media Contact Info
Marisa Pierce, Executive Director of Strategic Marketing and Communications
206.427.9414
[email protected]