Student Equity & Inclusion Services
A safe and welcoming environment for all
Multicultural Student Services
A safe and welcoming environment for all
Multicultural Student Services
A safe and welcoming environment for all
4th Annual Educational Justice Conference:

Student Action Builds Movements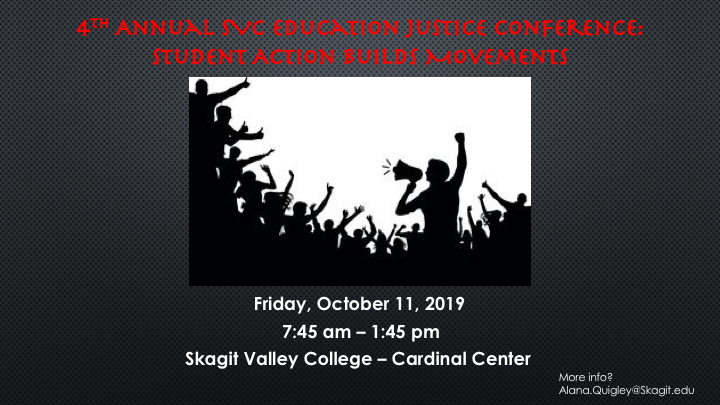 Friday, October 11, 2019
7:45 am – 1:45 pm
Skagit Valley College Cardinal Center
Agenda At Glance
7:45 – 8:15 am | Breakfast Snack & Registration at Cardinal Center
8:15 – 8:30 am | Walk to McIntyre Hall for Morning Keynote Session
8:30 – 8:45 am | Welcome to the 4th annual EJC!
8:45 – 9:45 am | Morning Keynote including: Matt Remle & Maru Mora Villalpando
10:00 – 11:15 am | Workshops: Session 1
11:20 am – 12:00 pm | Lunch
12:00 – 1:15 pm | Workshops: Session 2
1:30 – 1:45 pm | Closing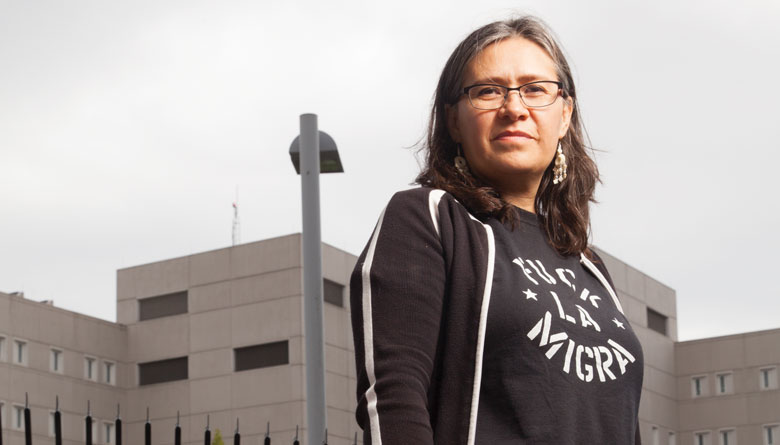 Maru Mora Villalpando
Maru Mora Villalpando is an undocumented community organizer nearly working for immigrant justice for nearly two decades. She is a co-founder of La Resistencia, grassroots volunteer group working side by side people detained in the Tacoma immigration prison, to shutdown the prison and end all detentions and deportations in our state. She was placed in deportation proceedings in late 2017 as political retaliation to the successful work La Resistencia has done in exposing the violence and inhumane treatment ICE inflicts in our communities.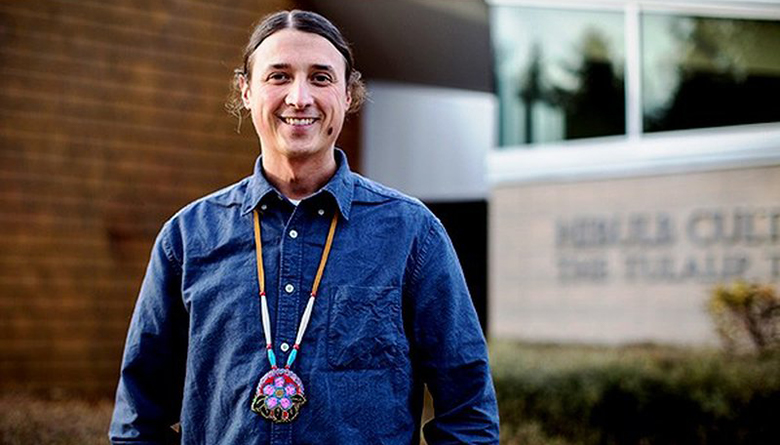 Matt Remle
Matt Remle (Lakota) lives in Duwamish Territory – Seattle, WA with his family. He is the editor and writer for Last Real Indians and works for the Office Of Native Education for the Marysville School District.
Matt is the author of Seattle's Indigenous Peoples' Day resolution, Seattle's resolution calling on Congress to engage in reconciliation with Tribes over the Boarding School Era policies, Seattle's resolution to oppose the construction of the Dakota Access pipeline and Seattle's ordinance to divest from Wells Fargo. He's currently serving on the City of Seattle's stakeholders committee to establish a public bank and serves on Seattle's Green New Deal Steering Committee.
He is the co-founder of the group Mazaska Talks which focuses on global divestment from banks and corporations that negatively impact social welfare and the environment.
In 2014, Remle was awarded Seattle's Individual Human Rights Leader award. In 2017, he was awarded the National Indian Education Association's Educator of the Year, The Billy Frank Jr. Natural Resource Protection Award and was named one of Seattle's Most Influential People.
Mission
To promote multicultural and social justice awareness, education and appreciation for diversity. We will achieve success through efforts that aim to:
Promote diversity and inclusion within the educational system in our community.
Develop leaders to promote social change and empowerment of their identity.
Create spaces which support diversity education, equity and cultural awareness.
Vision
We are committed to transforming institutional systems by removing barriers and promoting equity and inclusion in education.
American Indian/Alaska Native Community Gatherings
Samish Indian Nation and Skagit Valley College  host community gatherings on the  Mount Vernon Campus. From Coast Salish Weaving to Storytelling, these educational experiences foster the preservation of Samish culture and traditions. Below are past community gatherings.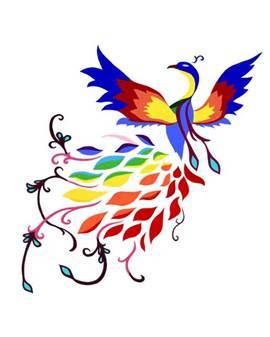 Queer I Am creates a liberating space in education that engages Queer individuals and their many communities in developing a sense of belonging and pride in Queer culture. This Summit is a collaborative project of regional colleges, community organizations, educators, students and organizers. We are proud to invite you to join us in a summit by the people for the people!
Values central to the summit:
• Building community through liberation and celebration of queer culture.
• Providing spaces for safety, healing and growth.
• Fostering accessibility for diverse needs and levels of experience.
• Centering voices and experiences of Queer and Trans People of Color.
• Emphasizing solidarity amongst our queer cultural differences to develop community.
We're excited to have you join us for our 3rd year!
You can also keep up with state wide events, summit updates, and connect with other people attending and involved through our Facebook.
Students of Color Conference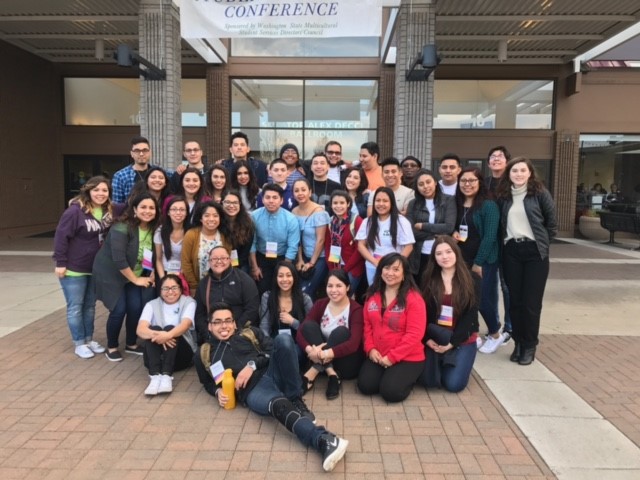 Save the Date!!!! Student of Color Conference April 12th-14th 2018 at Yakima Convention Center. More information to come soon!
The conference is guided by five main themes:
Identity Development: introduce students to concepts and structures that will strengthen their ethnic and/or racial identity.
Awareness of Others: these workshops are designed to increase students' awareness, knowledge, and understanding related to race, ethnicity, and other differences of groups other than their own.
Skill Development: students build and learn skills that they can use to achieve their full potential.
Social Justice/Social Activism: these workshops will introduce and/or advance students' understanding of the importance of becoming social agents of change.
Personal Development: students learn the importance of health and wellness issues related to the mind, body, and soul.
Conference Goal
The goal of the conference is to support Washington State students to become more active proponents of their own education and life choices, and expand the opportunities and possibilities for students to become agents of change.