News and Public Information
What's Trending
News & Public Information
What's Now | What's Trending
News & Public Information
What's Now | What's Trending
Marine Tech receives new Evinrude outboard engine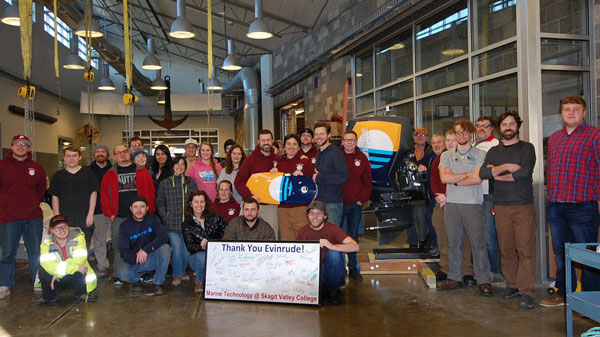 Evinrude's donation of $2 million in engines to the American Boat and Yacht Council Foundation will help train the next generation of Marine Technicians.
The Skagit Valley College Marine Maintenance Technology program is pleased to announce that it has received a new outboard engine — donated by the American Boat and Yacht Council (ABYC) Foundation and Evinrude and valued at $20k — that will enhance student training opportunities at SVC's Marine Technology Center in Anacortes, Washington. SVC's new engine is part of a significant $2 million donation of Evinrude ETEC G2 3.4L V6 outboard engines to the ABYC Foundation, supporting next generation marine technician training.
Evinrude, the American Boat and Yacht Council (ABYC) and the National Marine Distributors Association (NMDA) made the initial donation announcement on February 14th at the Miami Boat Show. The donation, which is the largest of its kind in history, will support students in high school and college training programs across the United States and Canada.
Skagit Valley College maintains strong connections with community leaders and key partnerships with business, education, and industry. "As one of our strategic priorities, SVC aligns workforce education programs with regional and state economic development strategies, advancing the State's economy through education," said Mike Beemer, Department Chair, Marine Maintenance.Technology. "We're grateful for the support by ABYC Foundation and Evinrude. This donation is an important addition to our curriculum and helps us respond to employer needs for skilled workers who have experience working on the latest trends in marine equipment and systems."
SVC is also a member of the ABYC Marine League of Schools, a consortium of 15 post-secondary marine technology education and training programs in North America and the Caribbean that teach to ABYC standards. Visit www.skagit.edu/marine. SVC Marine Tech students look forward to working with the new Evinrude engine:
"I'm looking forward to earning industry-specific training and certifications with this new equipment." — Connor

"Great to see the program expanding to include larger outboard motors and O.E.M training." — Cynthia

"Great opportunity to work on an engine that is current and similar to what many boats are using in our area." — Alex
"Recreational boats are becoming increasingly more integrated which requires technicians to be well versed in a multitude of advanced systems," said Tracy Crocker, Senior Vice President and General Manager, Evinrude. "By donating Evinrude engines and our training curriculum, we are providing the tools necessary to increase the number of certified professionals trained to service modern, technologically-advanced direct fuel-injection engines. Furthermore, we are maintaining Evinrude's long-standing commitment to the marine industry, while meeting dealer demands for additionally trained and talented employees."
The engine donation includes access to the entire Evinrude training curriculum, including fundamentals and professional level online courses. Upon successful completion of this curriculum and associated tests, students will have the option to transition to the certification-level course at Evinrude's technical training centers. In addition to the Evinrude training curriculum, highly discounted Evinrude outboard engine test tanks and Evinrude outboard educational service tool packages are available to schools.
ABYC is the premier non-profit member organization that develops global safety standards for the design, construction, maintenance, and repair of recreational boats. With the recent publication of, Fundamentals of Marine Service Technology, a comprehensive training program geared toward secondary and post-secondary education, ABYC has demonstrated its commitment to the growth of the marine industry and is a natural partner for the donation. ABYC will offer this accredited curriculum, which includes textbooks and training materials, together with the Evinrude outboards and training curriculum to schools. This program gives schools the tools needed to implement a standards-based curriculum including instructor guides, presentations, and sample tests.
"ABYC is focused on addressing the shortage of qualified marine technicians by developing and marketing an accredited technical education program," said John Adey, President, ABYC. "Evinrude's donation will provide these students hands-on experience servicing marine engines based on ABYC's current curriculum and is a key step in ABYC's efforts to address the shortage of qualified marine technicians. While ABYC's curriculum is general in nature, the addition of manufacturer-specific training enhances the value of the student to potential employers."
"Technical education and hands-on training need our full support so that students can develop their technical abilities and creativity," said Jeff Wasil, Engineering Manager, Emissions and Regulatory Development, Evinrude.  "The donation package and partnership put together by Evinrude, ABYC, and NMDA provides a comprehensive marine technical training program, supporting schools and students with the tools they need to be successful in this industry."
To address the marine industry's need for post-secondary technical education, ABYC developed the Marine League of Schools. ABYC assists these schools in the areas of standards-based curriculum development and instructor training/certification to help ensure that the training provided is relevant and up-to-date. Member schools are nationwide and held to a high standard due to their affiliation with ABYC. Evinrude's outboard engine and curriculum donation is being made available to these schools.
"Our faculty members are excited about the opportunity to access Evinrude's innovative technology for our students," said Ann Avary, Director of SVC's Center of Excellence for Marine Manufacturing and Technology. "This donation will inspire students to pursue rewarding careers in the marine industry and open their eyes to the many opportunities available to them as marine technicians. We're especially grateful to ABYC for its leadership in support of the educational mission of the Marine League of Schools, making this donation possible."
Interested accredited schools can apply online by visiting the ABYC Foundation website at www.abycfoundation.org or contact ABYC for further information. Evinrude and NMDA will also be reaching out to their dealerships and distributor networks to identify specific schools which would provide the most meaningful impacts to local communities.
In addition to Skagit Valley College's donation, Broward College in Fort Lauderdale, Florida and Fort Myers Technical College in Florida have already received engines. The remainder of the engines are scheduled to be placed within the next 12-36 months.
About Evinrude — Evinrude, part of the BRP Marine Group, is a global manufacturer of outboard marine engines. A model of innovation, Evinrude developed the first commercially viable outboard engine in 1909. Celebrating 110 years of innovation in 2019, Evinrude's engine line up, from 3.5 to 300 HP, offers customers superior value across a full range of applications while meeting all global emissions standards. Engines are available at authorized Evinrude dealerships worldwide. For more information visit Evinrude.
About the American Boat & Yacht Council and the ABYC Foundation — Since 1954, the non-profit American Boat & Yacht Council (ABYC) has developed safety standards for boat design, construction, equipage, repair and maintenance. The essential global source of marine industry technical information, ABYC's product safety standards, credentialing, education, training, and other tools help members make boating safer. The ABYC Foundation supports the mission of the American Boat & Yacht Council, with a focus on workforce development and providing resources that create educational and lifelong career opportunities to both current and aspiring marine service technicians. To get involved, visit www.abycfoundation.org.  
About NMDA — NMDA is the leading trade association for US and Canadian marine products distributors.  Members include major distributors, many leading product manufacturers and manufacturers' representatives.  For more information visit www.nmdaonline.com, email [email protected] or call 860.767.7898.