Drama
Your passion in the spotlight
Drama
Your passion in the spotlight
Drama
Your passion in the spotlight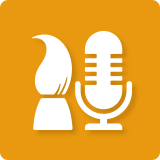 If you've ever worked on a theatrical production, you know that it's dynamic and dramatic. Working in the performing arts — whether it's as an actor, set or costume designer, or a producer — requires you to use a wide range of skills and to solve complex problems. At SVC we have a program designed to help you develop skills to advance your study in the performing arts.
Online Zoom Rehearsal:
The Drama of WAR!
The following presentation created and rehearsed on Zoom, is student production from "The Drama of WAR!" Learning Community, connecting US History (instructor, Kurt Dunbar) with Introduction to Theatre(instructor, Damond Morris). The play "Ubu Roi", was produced by Alfred Jarry in 1896, with the "Pa Ubu" character created among a group of school friends mocking their teacher and penned in 1888.
The main character, Pa Ubu, is fashioned after Shakespeare's Macbeth. He is a greedy despot dictator who relishes infantile behavior and thinks of nothing but himself. With Skagit Valley College forced into a fully online education due to COVID-19, and a theatrical learning outcome to increase the understanding of the artistic and collaborative process involved in theatre making, the class was separated into acting "troupes" to research, design settings (Zoom backgrounds), costumes(from their own closet), as well as props and puppets from found materials.
Like the ground breaking play they were building, they were asked to use their imagination, based on surrealist and Dada and avant-garde art. Student in Ubu "troupes" never met one another and never shared the same space, rehearsing and meeting on Zoom and Google Docs while developing puppets and backgrounds through class assignments. In US History, students drew connections between the actions of Ubu to despot dictators in the 20th century, as well as current leaders of the free world, to pull the play into the real megalomaniacle world we live in. Troupe leaders learned valuable skills moving their art from concept to fruition and hopefully friendships were formed that move beyond the screen into a post-virus real world.
As with our other performing and visual arts programs, the SVC Drama program is designed primarily to help students who are interested in beginning their study here and later transferring to a four-year institution. We offer a well-rounded introduction to theatre arts, including courses in acting, stage management, theatre history, and stagecraft.
While no direct transfer degree program in Drama is offered at SVC, students can pursue the Associate in Arts AA-DTA and work with their advisor for best transfer options.
Most coursework in the Drama program is not lecture-based, but highly practical, with lab, rehearsal and performance-based classes to help you develop skills in real-world settings. Students will gain experience working in a range of production facilities, from the state-of-the-art McIntyre Hall to the more intimate Phillip Tarro Theatre and other venues. Productions are student-based and student-driven, using resources from on campus and around the community.
SVC's Drama program will help you step out of the shadows and into the light, where you'll get valuable experience to prepare you for a four-year program.
Help Provide Scholarships for Drama Students
Your tax-deductible donation to the Drama Department will be used to fund departmental scholarships. Thank you for your support. For more information, please visit the Skagit Valley College Foundation website:
Put in your information, then specify "Other: please specify". Write DRAMA in the drop-down menu.
Thank you for your generous support of Drama Department Scholarship recipients.