Visual Arts
Your creativity is your life
Visual Arts
Your creativity is your life
Visual Arts
Your creativity is your life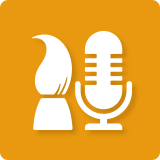 Visual Arts is your passion and provides many opportunities for exploration and creativity. Take your dream of the visual world and make it your own. SVC's Visual Arts program can help you make it a reality.
Yes! You Can Learn Ceramics from Home
Students from our program have gone on to careers in graphic design, illustration, animation, industrial design, teaching and art therapy and other careers where they use their passion and creative expression every day. Our program focuses on skill development while teaching historical context and cultural relevance. In our program, you'll have the opportunity to study the classical disciplines of drawing, painting, and ceramics in our studios—a spacious painting and drawing studio, a fully equipped ceramics studio, a photography lab, and other creative spaces. The Associate in Visual Arts degree (AVA) is a transfer degree specifically geared toward preparing students to transfer into an art major at a four-year institution. Admission to such programs is competitive and requires a portfolio review. Here at SVC, you'll get a serious art education with lots of one-on-one attention and personalized mentoring. We'll help you develop a portfolio that will demonstrate your skills and understanding, preparing you to compete for a spot in a four-year program.
Express Your True Colors!