Online Security & Access
Changing Your Network Password
Admissions
The Welcome Mat Starts Here
Admissions
The Welcome Mat Starts Here
How-to Instructions For All Browsers
11/8/2018 Note: Passwords now must be at least 12 characters in length.
Changed Your Password Before?
If You Have Not Changed Your Password Before
Enter your employee ID & PIN
---
You will need your Employee System ID number (SID) and your Employee PIN to log in. If you do not know one or both of these, contact Human Resources.

Create new password*
---
On the Password Change Page you will enter the following:
• Re-enter your PIN for security reasons.
• Enter the last 4 digits of your SSN to confirm your identity
• Enter your network/email username to confirm your account.
Note: do not enter "@skagit.edu" as part of your username.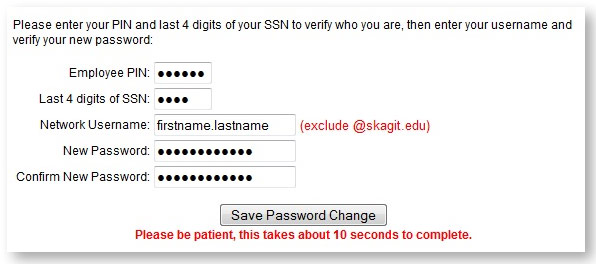 *See below for password criteria
Complete the change password process
---
Once you have entered the required information, including your new password, click the "Save Password Change" button to save your new password and complete the process.
You will be notified of any errors in the process and be given another chance to save your password.
Upon a successful password change, you will see the following screen (there may be a slight delay for this to appear).

Update your devices and stay connected
---
After changing your password you will need to immediately update all of your devices that are connected to your SVC email account so you can stay connected.
Criteria for Creating Passwords
Minimum Length – 12 characters
Passwords must include three of the following four types of characters:

Lowercase
Uppercase
Numbers
Special characters such as:   ! @ # $ % ^ & * ( ) { } [ ]

Passwords cannot contain any part of your name
Old passwords cannot be reused for five iterations