Craft Brewing Academy
From Grain to Glass
Craft Brewing Academy
"From Grain to Glass"
Craft Brewing Academy
"From Grain to Glass"
Airon Dugas
Brewer, Chuckanut Brewery
Burlington, WA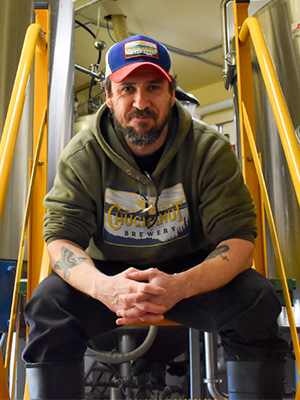 My name is Airon Dugas, and I was part of SVC's 2021 Cardinal Craft Brewing Academy.
I was lucky to get hired full-time at Chuckanut Brewery shortly after graduating from Cardinal Craft Brewing, and I've been working there ever since. I moved to Seattle (from Houston, TX) the same year Chuckanut became a brewery, and Chuckanut's Bohemian Pilsner was one of my first favorite craft beers of this region. I am proud and honored to be a part of their team and tradition of making fine craft lagers.
Once I got into the swing of things at Chuckanut, I started to realize just how much knowledge and information I had retained from CCB and things just started to click. I am grateful for the education and experience I got from CCB and glad that I decided to go through the program before diving into the industry.
Favorite after work beverage: Other than Chuck Pils, it depends on the season, and right now, I'm really enjoying our single hop lager made with Adeena hops. While my go-to store buys are usually pFriem Pilsner and Sierra Nevada Pale Ale.
Another brewery I've been into lately is Otherlands. Everything I've tried at Otherlands has been amazing: Kellerbier, Dark Czech Lager, Pilsner, Festbier, and their food is great, too!
Mark Biehl
Brewer, Terramar Brewstillery
Edison, WA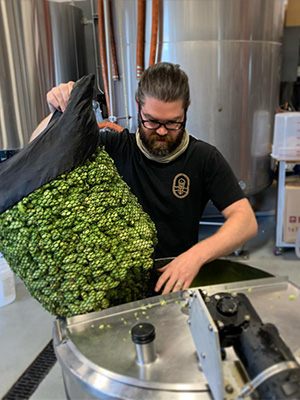 My name is Mark Biehl, and I'm a graduate of Skagit Valley College's Cardinal Craft Brewing Academy of 2020.
Attending CCB set me up with the knowledge and skills needed to gain entry to a brewing career. I was able to take part in industry observations and collaborations at breweries that opened their doors to students. CCB was the best way to meet and network with brewers and other industry professionals. Because of CCB, I was able to score an internship at Terramar during their first year in business. After my internship ended, I was hired as the assistant brewer and since have been promoted to brewer.
I'm especially fortunate to work at Terramar where our focus is on local ingredients for everything we do. We don't have "flagship" beers, so we really get to be creative and work with a lot of cool, local grains and fruits. We also make cider, spirits, and soda, which has been fun to learn and make.
Our talented production team is Chris Barker, owner and CCB grad, and Head Brewer Greg Spore. They both have a wealth of knowledge and experience to share. I really do learn something new every day working with them.
Favorite after work beverage: We have a great tap list right now, but more often than not, I'm reaching for a hoppy and dry West-Coast Style IPA. Currently, that's our Samish Bay IPA brewed with Simcoe, Amarillo, Citra, and HBC 586.
Breweries you're a fan of: I'm lucky to live and work in such a great beer community. The majority of the beer I buy comes from Skagit and Whatcom counties, and there is some seriously great beer being brewed here. Anything Chuckanut produces is outstanding and I have a ton of respect for that brewery.
Brian and Yvonne Van Ornam
Local Liquid Arts
Snohomish County, WA
Meet married couple Brian and Yvonne Van Ornam, graduates of the Skagit Valley College Cardinal Craft Brewing Academy (CCB) in 2017 and 2021 respectively.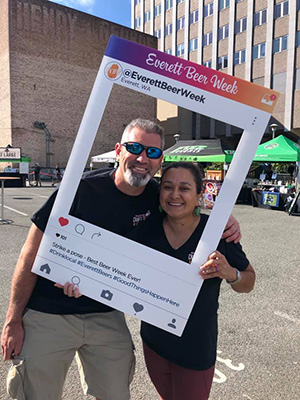 In reflecting on his CCB experience, Brian says, "Hands down, the best part of the program was the teaching staff. There is no better way to learn than from professionals who love what they do and want to teach others how to follow in their footsteps.
As an engineer, I need to understand how and why things work. Not only did we get the practical approach from Tony Savoy, but we also had the opportunity to geek out with Bob Rock in the chemistry lab counting yeast and learn the business side from Allen Rhoades. Having a diverse set of very knowledgeable instructors, who are passionate about their profession, made it even more exciting to go to class.
When my wife and I attended the first CCB kickoff meeting, I knew I needed to attend the program. Although I'm not currently brewing professionally, I homebrew on a small professional system. SVC's program taught me how to improve my recipe designs to make better beer and enhance quality control in the brewery. Also, it introduced me to a great network of brewers who I now call friends."
Favorite after work beverage: An IPA
"I'm a big fan of many of the local breweries, but Skookum is my go-to. I like their variety of IPAs, and they are just minutes from our home. A great neighborhood brewery!"
Yvonne's says CCB opened doors for her that she has been knocking on for years. "For me, the best part of attending SVC's CCB Academy was that it has made me a better advocate for the craft brewing industry in our area. As a customer, chilling at the bar chatting with the brewer, the world just looks like a great time. Now, I realize just how hard it is to brew a great tasting beer. It was so amazing to brew award-winning beer as a student and intern at a couple of successful and busy local breweries where I was supported, encouraged to experiment, and ask questions because my opinion counted!
As a graduate of CCB, I have a different level of credibility and experience that I wouldn't have been able to get in that amount of time any other way. The instructors are patient, experienced, passionate about their business and this industry and the program is well developed. I am very proud to tell people I am a CCB graduate.
I have been hard at work as the director of Local Liquid Arts, a nonprofit that supports the craft beverage makers in Snohomish County. The organization helps support their businesses through special events, community engagement, and our electronic passport, which is scheduled for release in May."
Favorite after work beverage: Hefeweizen
"We are very lucky to live in a region with so many wonderful breweries, but my go-to brewery is Whitewall in Marysville. The folks there are always friendly and easy to chat up! I might be a little biased since they were one of three of my CCB internship breweries, and they are super supportive of our efforts through Local Liquid Arts."
Brian and Yvonne spend their time running the nonprofit Local Liquid Arts in Snohomish County, Wash.
Amber Rogers
Head Brewer, Meddlesome Brewing Co.
Cordova, TN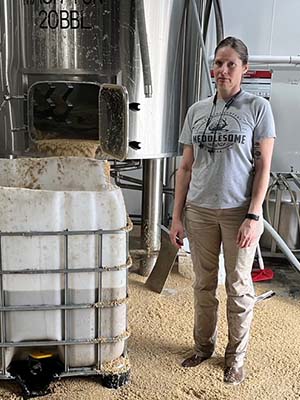 I graduated from the SVC Cardinal Craft Brewing Academy in 2018 and started at Scuttlebutt Brewing in Everett as an assistant brewer and lab manager. After developing a testing program, lab procedures, and enough hours on the brew deck, I was promoted to production brewer. In May 2019, the Navy sent my husband and I to Memphis, TN, where I serendipitously met one of the owners of Meddlesome Brewing Co. Meddlesome hired me as their production brewer, and I was later promoted to head brewer. I love my job every day, even the hard ones (see my disastrous grain out picture).
SVC helped me find my internship at Scuttlebutt, which led to my job there and to my current job in Memphis. Attending the Cardinal Craft Brewing Academy is one of the best decisions I've made.
Breweries you're a fan of: Wiseacre Brewing Co. and Hampline Brewing Co. are excellent local breweries.
Matt Bell
Brewer, Black Raven Brewing Co.
Woodinville, WA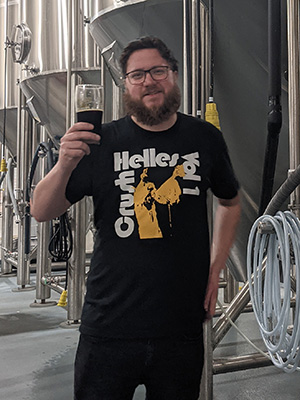 I made the decision to become a brewer (and eventual brewery owner) a few years ago. I had very little knowledge or experience in the field and enrolled in the Skagit Valley College Cardinal Craft Brewing (CCB) Academy, which served as my launch pad into the industry. I was a 2020 graduate, and while attending the Academy, I received an internship at Anacortes Brewing. Not long after that, I was hired full-time at Black Raven Brewing Co. in Woodinville, where I have continued to improve my skills. I spend most of my time in packaging and cellaring these days, with plenty of room to grow with the company and industry. I am surrounded by industry veterans, fantastic beer, and a dedicated fan base. I am incredibly lucky, and I know that without my education through CCB, I wouldn't be where I am now. Beyond that, it gives me a sense of pride to know that I have gone through a technical program which has assisted so many others to succeed in either becoming brewers and/or owners of their own businesses.
Favorite after work beverage: My favorite shift beer, which as of this writing, is a week away from being tapped, is our Gunpowder Plot Porter. This beer references the failed Gunpowder Plot of 1605 in which Guy Fawkes attempted to overthrow the government of King James I. This beer is infused with coffee beans soaked in top-shelf bourbon, along with cacao nibs and vanilla. If its historical reference and ingredient list didn't make it tempting enough, it is nitro conditioned. If this beer is available in our taproom, that is always what I choose. Otherwise, I greatly enjoy our pilsner or our rum barrel aged coconut porter.
Breweries you're a fan of: I am always attracted to experimentation and collaboration. Garden Path Fermentation, Propolis Brewing, and Dirty Couch Brewing come to mind. When I go to bottle shops, I tend to go for geuze, lambic, table beers, softer pilsners, and the like. I am becoming more interested in the subtlety of malt and yeast, as opposed to what originally drew me in, the western IPA and its hops.
Bradly Strong
Owner, Bugu Brewing Company
Monroe, WA
My name is Bradley Strong, and I'm a graduate of Skagit Valley College's Cardinal Craft Brewing Academy of 2020.
After graduating, I was hired as an assistant brewer at Bickersons Brewhouse in Renton where I was able to work and learn under Frank Castro, their co-owner and head brewer. Frank has such a great wealth of knowledge in owning and operating a brewery and developing recipes and brewing processes. From there, my father and I were able to open Bugu Brewing Company in Monroe, Wash. It's pretty silly how much information and skills I learned and apply every day from that one year of school, and it's hard for me to think of anything I would recommend more for someone who is looking to get into the industry or looking to be even better at their current role. The amount of knowledge and passion that is put into that program is unmatched, and I couldn't be more thankful to the people who make it happen.
Favorite after work beverage: If I'm being honest, my favorite after work drink is Diet Coke, but that's pretty lame, so I'll also say that if I ever happen to have a bottle of 2nd Edition Ron's Not Bitter from Garden Path, that'll always be the first thing I grab.
Breweries you're a fan of: Some of my favorite breweries in the area are Bickersons Brewhouse, Terramar Brewstillery, and Garden Path Fermentation. They all have such a distinct way that they make their beers and I'm a sucker for a brewery where no matter which beer you are drinking, you can tell exactly who made it.
Candace Bobryk
Cellar/Packaging Specialist, Kulshan Brewing Company
Bellingham, WA
My name is Candace Bobryk, and I was able to score a position in the brewing industry about halfway through my time with Skagit Valley College's Cardinal Craft Brewing Academy. I was hired on at Kulshan Brewing Co. in Bellingham, WA in packaging and the cellar in the beginning of 2020. Since completing the program I have been very busy on the canning line and learning the ins and outs of the cellar at the K2 location.
The COVID pandemic hit at a challenging point in my journey. I was finishing my final quarter as a student at SVC and beginning my training at Kulshan Brewing Co. I found this to be a difficult adjustment, but I'm feeling very optimistic and motivated due to the flexibility and resilience of others working through this time. I've learned so much and hope to continue onto more cellar work and hands-on brewing.
Looking back at my time at Cardinal Craft Brewing, I really value the relationships I've built. It's been wonderful to see the journeys of my fellow classmates, others in the Cardinal family, coworkers, and the industry, I'm thankful to be able to reach out to them. I'm really happy that I was able to successfully switch from accounting to brewing in the last year and a half, eager to learn more about beer and brewing and ready to see what the New Year holds!
Favorite after work beverage: Recently, I've been craving anything and everything crisp, refreshing and a bit malty. I've been drinking a lot of Plank Brothers NW Pilsner (Kulshan Brewing Co. and North Fork Brewing Collaboration) or Helles (Kulshan Brewing Co).
A brewery that I am a fan of: Each time we visit friends in the San Juans, we make a stop at San Juan Island Brewing Company. The most recent time we made a visit, we picked up "The Late Boat" Czech Style Dark Lager. I always look forward to trying something new from this brewery, and this dark lager was a perfect drink while staying cozy during the winter wind storms.
Chris Barker
Owner, Brewer, and Distiller Terramar Brewstillery
Edison, WA
I have the distinct honor of being a graduate from the inaugural class of Skagit Valley College's Craft Brewing Academy. The opening of the Academy was perfect timing, as I was in the process of planning Terramar with my wife Jen, and our Newfy, Fezzik (the not-so-silent investor). It was an amazing experience learning the nuances of not only the brewing process, but also the business knowledge needed to open a brewery.
Teachers Bob Rock, Tony Savoy, and Allen Rhoades are great instructors who brought to the program their decades of experience and diverse knowledge. They not only continue to be a helpful resource to this day, but they also have become supportive friends. During the course of the program, we were given the opportunity to meet with industry professionals, which was an excellent learning opportunity and a way of making contacts within the industry.
I was truly fortunate to have to the opportunity to intern at Chuckanut Brewery with Will and Mari Kemper and Brian Cardwell. They brew beer with unequaled technical precision that resonated with my engineering background. I also had the opportunity to help with the build-out of the "South Nut" production brewery. That was an invaluable experience which I was able to implement directly with our build-out.
We are now working our way into our second year with the brewery, cidery, distillery, and wood fired pizza in full operation. This past year, we were able to take on two SVC brew school interns, and recently hired graduate Mark Biehl as an assistant brewer here at Terramar. We look forward to bringing on more fellow graduates as Terramar expands production.
Favorite After Work Beverage: That is tough one and, like most answers, I would have to say it depends. I am a big fan of Belgian-style beer and my go-to at the moment is our Saison de Skagit.
Breweries you are a fan of: There are so many breweries out there that do amazing things, but I would have to say at the top of international list would be Cantillon, Westvleteren and Rochefort. Closer to home, I would have to say Wander, Otherlands, are my go-to breweries in the area.
Hisham Mishalani
Brewer, Kulshan Brewing Company
Bellingham, WA
My name is Hisham Mishalani and I'm an alum of the Cardinal Craft Brewing Academy class of 2018. After 6 years of homebrewing, and a good decade-plus of being passionate about beer, I joined the 3rd cohort of CCB, and am so glad that I did. The guidance and patience I received from the instructors, and the friendship and connections I found with my fellow school brewers was an incredible experience, and a great way to kick off entering into the industry.
While in the program, I interned at Menace Brewing in Bellingham, working directly with a couple of industry veterans in a small, intimate brewery setting. Less than a month after that internship, I landed a job at Kulshan Brewing Company, working alongside Nate Miller (also CCB class of '18, now brewing at 10 Barrell in Bend, OR) at our Kentucky Street production facility. In my past two years at Kulshan, I've done a bit of everything—washing kegs (of course), assisting on the canning line, operating the bottling line, racking beer to kegs, cellar management at both Kentucky St. and James St. locations, and brewing on our 15 bbl brewhouse at James St. Currently, my primary role is cellar management at the production brewery, and I will begin training on our 30 bbl brewhouse there soon. Also, I should mention that I'm currently working alongside Candace Bobryk (CCB class of '20). Cardinal Alumni. We're everywhere!
Favorite after-work beverage: My go-to after-work beverages are either our Kulshan Pilsner or our Munich-style Helles Lager. However, it is 'Fest season, so I've been digging on our Fest Bier pretty hard as well.
Brewery you are a fan of: Currently, I'm a huge fan of Otherlands Beer, the latest addition to the Bellingham brewery community. They focus on magically delicious renditions of both European Lager styles and Ales that fall into the more elusive Belgian/French Farmhouse realm. Along with the quality of the beer, their small, cozy, focus-on-just-a-few-things-and-do-them-really-well approach resonates with me.
Nate Miller
Production Brewer, 10 Barrel Brewing
Portland, OR
My name is Nate Miller and I was part of the 3rd cohort of brewers with Skagit Valley College's Cardinal Craft Brewing Academy. While with the program, I received my first opportunity with Kulshan Brewing Co. in Bellingham, WA as an intern packaging and cellarman. I learned a lot about craft beer here and gained my footing within the industry. Since then, I have been hired on full-time as a production brewer with 10 Barrel Brewing Co. in Bend, OR (AB owned) and am loving every minute of it.
My advice to the next and-up-and coming generation of brewers is to read your books and put yourself out there. You're going to get denied and maybe rejected a few times, but you will make connections and friendships along the way. Also, and as controversial as this may be, do not knock Big Beer before you get there. With COVID-19 in full swing, many smaller breweries have sadly taken a hit, however Anheuser-Busch has remained a rock, and I am still employed. Know that it is important to support Craft, but also understand that Big Beer is not out to destroy the craft beer industry. AB still allows 10 Barrel to have a creative outlet and create new and innovative beers every day!
To echo a friend and classmate of mine @ccvansickle, "I would not be here, if not for the great instructors, classmates, and the network provided from the Skagit Valley College Cardinal Craft Brewing program."
Favorite after work beverage/breweries I'm fond of: I am a big fan of a variety of beers; from Lagers to Hazies, it is important to make room for it all. For the Hazy fans up there, @structuresbrewing in Bellingham, WA does it better than the rest, and the Fuzz is a personal favorite of mine. If you love the lighter and feistbiers, you can do no wrong with @chuckanutbrewery!
Darin Hamm
Owner/Brewer Beach Cat Brewing
Blaine, WA
My name is Darin Hamm and I am a graduate of Skagit Valley College's Cardinal Craft Brewing Academy of 2019. As a homebrewer for almost 20 years, I really wanted to expand my knowledge of brewing, learn more about the brewing industry and solidify my plans to open my own brewery. These are the reasons I enrolled in the Academy. I did my internship at Anacortes Brewing and learned so much from Allen, Rick and the rest of the team.
After graduation, I started to put the finishing touches on my business plan to open my own brewery. After looking at many locations and not finding the exact situation I was looking for, Jake Gobielle asked me if I wanted to partner up and work together to open a brewery. We spent some time working out details and Beach Cat Brewing became a reality. We spent six months building the Beach Cat Brewing in Birch Bay, Washington. Jake and I did 90% of the work ourselves and utilized many of the things we learned in brew school and previous brewing experiences. Did I mention Jake and I were in the same graduating class of 2019? Beach Cat finally opened in August of this year and Jake and I are off and running! No longer are we chasing the dream but living the reality! I'm glad I enrolled in the program and owe a lot to Allen Rhodes, Tony Savoy, Bob Rock, David Leonard, Josh Waldman and many more!
Favorite after work beverage: a nice cold well-crafted beer or cider. Something local and new!
Brewery I'm very fond of: I like so many breweries it's hard to pick one I admire the most, but I will say that what I really enjoy is going to a brewery for the first time!
Nate Willis
Brewer, Future Primitive Brewing
White Center, WA
After graduating from Skagit Valley College's Cardinal Craft Brewing Academy few years ago, I was interning with Monka Brewing in Shoreline, Washington, which was just opening its doors for business. It was great to get my hands on the 3 BBL system and to learn more about the challenges of opening a brewery.
In August of 2018, I was hired by Sumerian Brewing in Woodinville to be an assistant brewer. At Sumerian, I learned how to take beer from grain to glass and cans! One of my main tasks was to learn how to operate their new canning line and now it is a skill that will most definitely help me in the future. I also learned the ins and outs of running a production brewery from my amazing head brewer Tyson and Tamara Rice who is also an SVC Cardinal Craft Brewing grad and was an assistant brewer with Sumerian when I was hired. This year I had the pleasure of taking on a CCB intern and really enjoyed being able to pass on my knowledge and experience to him. Now, I am going to begin brewing for Future Primitive Brewing in White Center at the end of August. I am looking forward to the new challenge and helping them grow their brewery.
Favorite after work beverage: My favorite after work beer is hard to pin down but I'll give you two of my favorites from this summer. First, what CCB grad doesn't love a good Chuckanut beer. I really like their Citra Leaf Pilsner. Second, I have been really digging hoppy lagers, and Stoup's Mixtape Romeo is a really good one.
Brewery I'm very fond of: There are a lot of really good breweries out there doing amazing things right now, but, if I had to pick, I'd say that I'm a big fan or what Matchless and Structures are doing. Cheers!
Kent Spangenberg
Head Brewer at Dreadnought Brewing
Monroe, WA
My name is Kent Spangenberg and I have been working at Dreadnought Brewing for over three years now. We are a 7bbl brewery in Monroe, Washington with a small taproom. Very early on in my time at Skagit Valley College's Cardinal Craft Brewing Academy, I began interning at Dreadnought, assisting on brew days. As I attended the program, I was able to contribute to Dreadnought immensely while I learned invaluable information at school. Not long after starting my internship, I was hired on full-time as an assistant brewer. And, in my second year, I became the lead brewer producing and operating the brewery in all aspects of the job. By my third year, I became the head brewer directing production/distribution and even teaching an assistant brewer. I recently got married to my wife, Jessica, and we have spent a lot of our free time building our home and exploring any and every Northwest brewery that we can. My wife is now running the taproom. 
Favorite after work beverage: Chuckanut Pilsner when I can get up north to get it! Usually my go to beer after work is any new IPA that I can get my hands on.
Brewery I'm very fond of: I am a very big fan of Five Rights Brewing, I've gotten to know the owner and head brewer, RJ, and he makes some amazing beers. Also, a huge fan of FrinGe Brewing. Scott White and I both went to the Cardinal Craft Brewing Academy together and he started his own brewery! Love his low Abv beers. 
Scott White
President/Head Brewer at FrinGe Brewing
Ferndale, WA
My name is Scott White and I am a graduate of Skagit Valley College's Cardinal Craft Brewing Academy. I am currently the President/Brewer at FrinGe brewing in Ferndale, WA.
First of all, I'd like to thank all of my amazing instructors at CCB!! Bob, Tony, Allen, and Bryan are amazing people and their knowledge, passion and understanding of the brewing industry is awesome!! I still go through my notes from classes.
Since I graduated (second class), I decided to open my own brewery and follow my dream. This was an adventure of gigantic proportion!! There's a lot involved in doing this! So, if you're thinking about opening your own, be prepared for many hoops and sleepless nights of getting it all together. We opened a year and a half ago and have been well received. We operate on a 7bbl direct fire system. The great thing about it is that we have our "flagships," but I am also allowed to play around and put out one-offs all the time to keep people engaged in our love for all styles of beer.
Favorite after work beverage: Well, a beer of course. But I'm also very fond of cranberry juice.
Brewery I'm very fond of: Hands down, it's Hills Farmstead in Vermont. This brilliantly engendered brewery has some of the most amazing representations of styles. I visit it whenever I am back there. And if you get the chance, you should.
Thanks for reading and if you find yourself in Ferndale, stop by. Cheers and best of luck to you in your adventures in craft brewing.
Tamara Rice
Membership Director, Washington Brewer's Guild
My name is Tamara Rice and in 2016, my passion for quality craft beer led me to enroll in Skagit Valley College's Cardinal Craft Brewing program. Friends and family asked me what I was planning to accomplish by enrolling in the program. My answer was that I wanted to learn how to brew quality beer, make great industry contacts, find satisfying brewing industry employment, and become an ambassador for the Washington craft brewing industry. The physical aspects of working in the brewery setting seemed like a perfect match for me. The science of brewing fits my curious nature, and designing with the raw materials feeds my creative side.
I was extremely fortunate to have the amazing opportunity of interning with the Sumerian Brewing team in Woodinville! Both, the Head Brewer Tyson Schiffner and the Assistant Brewer Hunter Quam, provided me with immersion into every aspect of the brewing process on a 15 BBL system. This Sumerian internship was truly a remarkable experience, and I was hired to join their brewing team.
I had an "aha" moment about four months into the SVC Cardinal Craft Brewing program, while studying an assignment that was included with the Business of Craft Brewing Module. It included learning about the Washington Brewers Guild: "A non-profit trade association dedicated to advancing the common interests of Washington craft brewers through legislative advocacy and brewer community building. The WBG works to unite WA craft brewers and provide a strong and effective voice for the industry to the Legislature and other critical policy making entities. The WBG provides support to its member breweries by helping brewers navigate state beer laws, providing education forums on issues of interest and importance to WA brewers and connecting brewers with fellow brewers and beer industry suppliers." I communicated to my instructor Allen Rhoades that my previous work experience in administrative management could be a perfect fit with working with WBG, and he networked with Annie McGrath, the WBG Executive Director to help create an internship opportunity. That "aha" moment led to a part-time Membership Coordinator offer and grew into a full-time Membership Director position. One of my proudest accomplishments working with the guild so far, is assisting with creating a successful inaugural WA Craft Beer Industry Summit and Trade Show in 2019.
Enrolling in SVC's Cardinal Craft Brewing program enabled me to successfully accomplish my original goals of learning how to brew quality beer, make great industry contacts, find satisfying brewing industry employment, and become an ambassador for the WA craft brewing industry. A big thank you to my instructors: Allen Rhoades, Bob Rock, Tony Savoy, Bryan Krueger, Josh Waldman, and to SVC for providing this program! It's exciting to me to see where this brewing passion and education has led me!
Trevor Lawrence
Owner, Northwest Brewer's Supply
Burlington, WA
My name is Trevor Lawrence, I attended SVC's Cardinal Craft Brewing Academy in 2019-2020. I am the owner of our local homebrew supply store, Northwest Brewer's Supply in Burlington. With my father being the previous owner, I have been around homebrewing for a longtime, but always wanted a bit more experience with the commercial side of brewing. With the guidance from the knowledgeable faculty at the Cardinal Craft Brewing Academy and the great staff at Bastion Brewing Co., where I was fortunate enough to intern, I was not let down. Since attending SVC's program, I have continued to operate Northwest Brewer's Supply. It has given me a better understanding of craft brewing as a whole, and has helped me better serve the homebrewing community. My favorite local beer is Chuckanut's Kolsch and I still really enjoy the creative and well executed beers at Bastion Brewing Co.
Chris VanSickle
Senior Brewer at 10 Barrel Brewing Company
Bend, OR
My name is Chris VanSickle and I got into the brewing industry through my great experience in the inaugural class at Cardinal Craft Brewing. I received an internship at Farmstrong Brewing in Mount Vernon as part of the program and when I graduated, they hired me on full time. While there for close to two years I learned a ton about brewing on a 20 BBL system from Mike Armstrong and then Thane Tupper. My wife and I decided to move back to Oregon, and I received job offers as a production Brewer from Full Sail and 10 Barrel but ultimately chose 10 Barrel and to live in Bend.
My 2 years at 10 Barrel has taught me what large scale production looks like, we brewed 100,000 bbls last year! At 10 Barrel I have spearheaded a brand-new training program that I was able to develop and implement, completely rewriting and creating the entire SOP program and training almost every new Brewer for the past year and a half. I was even lucky enough to recommend another Cardinal Alumni for a job and then got to train him on both the brew deck and the cellar.
I wouldn't be where I am today if it weren't for the great teachers, students, and network that I got by going through the program. I'm constantly looking back to lessons from Allen, Tony, and Bob.
Favorite After Work Beverage: Anything by Chuckanut -I just found their Kolsch last week and was stoked!
Brewery I'm a fan of: Wayfinder from Portland -they are killing it constantly and releasing some of the best lagers I have found anywhere.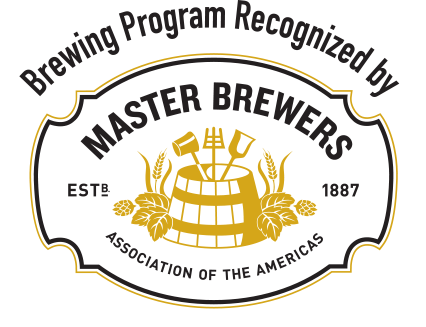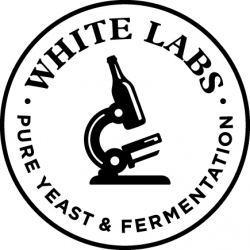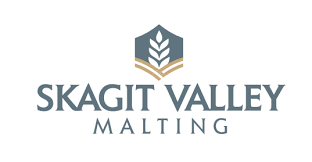 "We are proud to be working with industry leaders like our exclusive yeast partner, White Labs, and local malt supplier, Skagit Valley Malting."