Diesel Power Technology
Training to power your career
Diesel Power Technology
Put your career in drive
Diesel Power Technology
Put your career in drive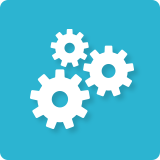 Are you interested in a career in diesel power? SVC's exceptional Diesel Power Technology program will provide you with the skills you need to get a great job in this varied and interesting field.
Program Catalog Information
SVC's Diesel Power Technology program is designed to prepare you for employment in this dynamic and growing field. Diagnosis and repair of heavy trucks, industrial and agricultural machinery, transit, marine, and generator power sets are just a few of the career pathways graduates can take upon concluding the program. This efficient energy source is widely used and provides jobs for those who enjoy working on heavy-duty equipment and the challenges of troubleshooting and diagnosing the ever-increasing use of electronic controls in the diesel industry.
Diesel Power Technology, AAS
As a graduate of our Diesel Power Technology program you will be prepared to:
Demonstrate the skills and knowledge required for successful entry-level employment in the diesel power industry.
Understand and apply safe working practices in the lab/shop environ­ment including proper handling and disposal of hazardous materials typically found in a shop environment.
Apply fundamentals of diesel service training, including the basics of diagnostics and repair, pre-delivery inspection and warranty re­pair procedures.
Demonstrate the skills to troubleshoot and repair the fol­lowing mechanical systems: electronics, hydraulics, power train, engines, brakes, power transmission, pneumatics, and chassis systems.
Demonstrate the ability to accurately document work performed.
Perform repair procedures using proper hand and power tools in a safe manner.
Operate precision diagnostic and repair equipment.
Have the ability to access service and parts information via all industry formats including print, CD-ROM and the Internet.
Understand and practice good communication and public relations skills with customers and colleagues.
Demonstrate critical thinking, teamwork, communication, inter­cultural appreciation, and technical and information literacy skills.
Program Costs
Program cost information available for Certificate Options only