Diesel Power Technology
Training to power your career
Diesel Power Technology
Put your career in drive
Diesel Power Technology
Put your career in drive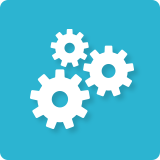 Are you interested in a career in diesel power? SVC's exceptional Diesel Power Technology program will provide you with the skills you need to get a great job in this varied and interesting field.
Program Catalog Information
SVC's Diesel Power Technology program is designed to prepare you for employment in this dynamic and growing field. Diagnosis and repair of heavy trucks, industrial and agricultural machinery, transit, marine, and generator power sets are just a few of the career pathways graduates can take upon concluding the program. This efficient energy source is widely used and provides jobs for those who enjoy working on heavy-duty equipment and the challenges of troubleshooting and diagnosing the ever-increasing use of electronic controls in the diesel industry.
Diesel Power Technology, AAS