News and Public Information
What's Trending
News & Public Information
What's Now | What's Trending
News & Public Information
What's Now | What's Trending
Cam Weaver and the 1988 Men's Basketball Team inducted into NWAC Hall of Fame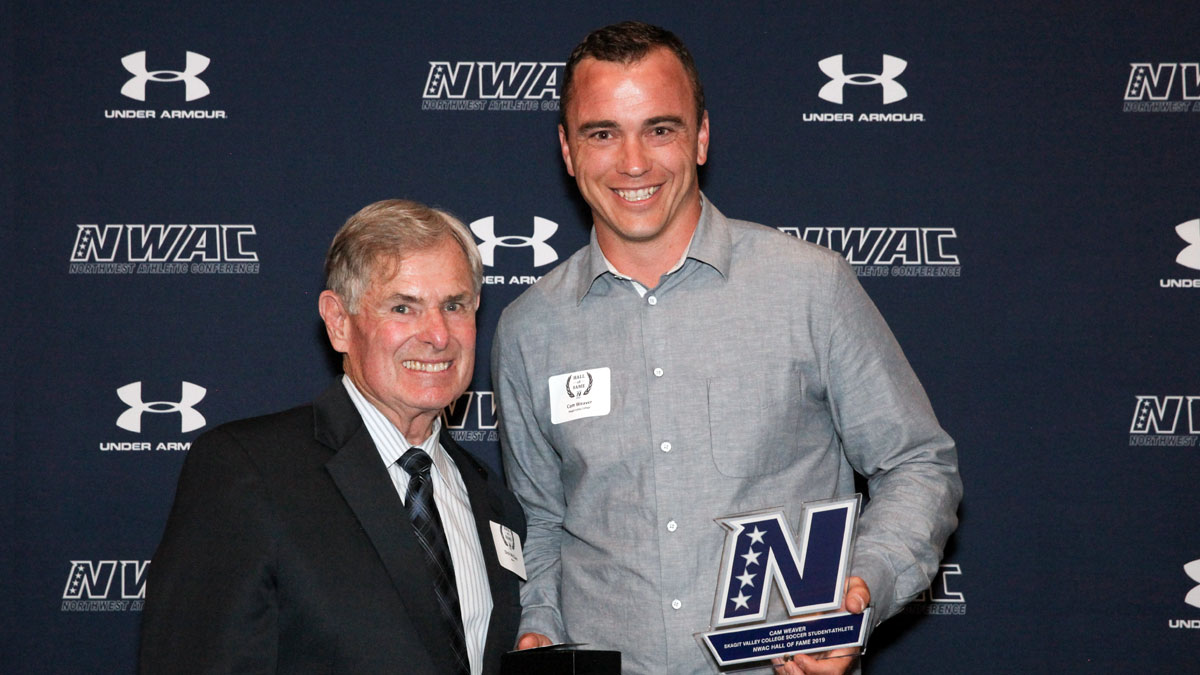 (Left to right) Dick McClain, former Northwest Athletic Conference Executive Director, congratulates Cam Weaver, SVC Men's Soccer player, on Cam's induction into the NWAC Hall of Fame.
The Skagit Valley College (SVC) Athletic Department is pleased to announce that Cam Weaver, former SVC Men's Soccer player, and the 1988 Men's Basketball team, have been inducted into the Northwest Athletic Conference (NWAC) 2019 Hall of Fame. The induction ceremony was held in Olympia, Washington.
Cam Weaver came to Skagit Valley College in 2002 from Kentwood High School and played soccer for two years for the Cardinals and Head Coach Dave Ryberg and Assistant Coach Mike Witmer. In 2003, Cam was a member of the team that won the Northwest Athletic Association of Community Colleges Championship (then known as NWAACC). Cam was named Most Valuable Player for the tournament and scored the winning goal in the championship game.
Head Coach Dave Ryberg reflected on Cam's impact with the Cardinals: "Cam sat out the first half of his freshman year due to some nagging high school injuries. During his sophomore year, we converted him from a defender to a forward and he never looked back. Cam was a team leader and an inspiration to his teammates."
After finishing his two years at SVC, Cam earned a scholarship and transferred to Seattle University (SU) where he played forward with the Redhawks soccer team. He was also on the SU team that won the national title in 2004. Cam completed his education at Seattle University and earned a Bachelor of Arts in Business.
After his collegiate soccer career, Cam began his professional soccer career. He played one year with the USL Seattle Sounders and was the team's leading scorer. He then left the U.S. for Norway to play for the Haugesund team in the Norwegian Adeccoligaen Division before coming back to the U.S. to play for the MLS San Jose Earthquakes, Houston Dynamo, and finally with the Seattle Sounders. Cam enjoyed a very successful six-year career in Major League Soccer, playing in over 100 games.
Also inducted at last month's NWAC Hall of Fame ceremony was the SVC 1988 Men's Basketball Team: Curtis Bacy, Robert Hancock, Aaron Hansen, Curt Johnson, Nick Klungel, Tim Nicholas, Greg Olson, Mike Ostlund, Dennis Strong, Gerald Williams, and Matt Whitmire. Leading the Cardinals were Dave Quall, Head Coach, along with Roger Valentine and Brent Williams, Assistant Coaches.
After falling short of winning the NWAACC championship in 1987, the Cardinals were not willing to settle for second place again. After losing two of their first four games, they pulled together to win 14 of their last 15 games, which earned them another NWAACC North Region Co-Championship and became NWAACC Champions by defeating the Columbia Basin Hawks, 113-88. The Cardinals had a high-powered offense that produced an average of 96 points per game. The 1988 team was the North Region Co-Champions, NWAACC Champions, and Head Coach Dave Quall was selected NWAACC Coach of the Year.
To stay connected with the Cardinals, visit athletics.skagit.edu.