News and Public Information
What's Trending
News & Public Information
What's Now | What's Trending
News & Public Information
What's Now | What's Trending
SVC Marketing and Communication wins 25 marketing and public relations regional awards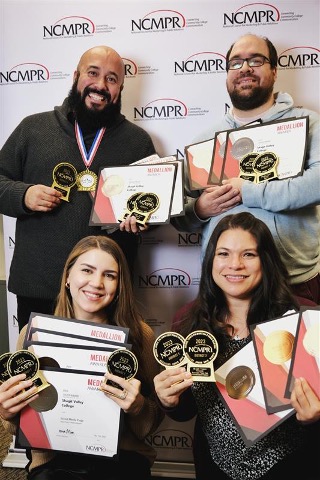 The Skagit Valley College Strategic Marketing and Communications Department recently was awarded 25 prestigious Medallion Awards from the National Council for Marketing and Public Relations (NCMPR) for work promoting the college during the 2022-23 academic year.
The awards include 11 first-place Gold Medallion Awards, 10 second-place Silver Medallion Awards, and four third-place Bronze Medallion Awards.
Medallion Award winners were announced Oct. 19 during the NCMPR's annual District 7 fall conference held in Hood River, Oregon. The SVC team was honored with awards in the following categories:
[Academic Catalog or Class Schedule] 2022-2023 Academic Catalog — Gold

SVC's academic catalog design for the year.

[Newsletter] 2022 Currents Magazine— Gold

SVC's 2022 Currents Magazine, which highlighted accomplishments and important moments from the 2022 school year.

[Booklet] New Student Orientation Guidebook — Gold

A booklet designed to guide students through new student orientation on campus.

[Flyer] Cardinal Die Cut Recruitment Piece — Gold

A SVC recruitment flyer, die cut in the shape of the SVC mascot's head.

[Social Media Post] From First-Gen to the Field: Sergio Garduno Mendez — Gold

An instagram reel, highlighting Sergio Garduno Mendez's story as an SVC soccer player and first-gen college student soon transferring to Western Washington University to play soccer.

[E-Cards] Foundation Scholarship Banquet — Gold

An E-Card invitation for the SVC Foundation's scholarship banquet.

[Quick-Turn Video] El Grito Celebration — Gold

Short-form video coverage of SVC's El Grito campus celebration on

[Logo Design] Maestros Para El Pueblo — Gold

Maestros Para El Pueblo revamped their logo to update the font and maintain the cultural serape pattern on a graduation hat, symbolizing their collaboration with Western Washington University and local high schools to support Latinx students in pursuing education careers.

[Television/Video Paid Advertisement] Running Start — Gold

A paid video advertisement highlighting SVC's running start program, busting the "myths" about what it takes to participate in the program.

[Communication Success Story] 6-year-old gets fitted for prosthetic hand — Gold

Mithell Pawson, a 6-year-old boy from Tacoma, received a 3D printed hand developed by the Manufacturing Engineering club which was covered by Fox 13 Seattle

[Successful Diversity, Equity and Inclusion Marketing] Champions of Diversity — Gold

Marketing campaign for Champions of Diversity, including slides, printed programs, certificates, email headers, and flyers.

[Flyer] Foundation Scholarship Application — Silver

A print flyer for the SVC Foundation's scholarship application.

[E-Card] Career Fair — Silver

Digital E-Card emailed to the community inviting them to the college's career fair.

[Microsite/Landing Page] College Assistance Migrant Program (CAMP) — Silver

The landing page for SVC's CAMP program is available

[Social Media Page] SVC Instagram Page — Silver
[Promotional Video/Shortform] We Partner with First Nations Communities — Silver

A shortform YouTube video, showcasing how SVC partners with First Nation Communities through representation in the arts, hosting community events, funding academic programs and supporting students to connect with each other.

[Quick-Turn Videos] Mount Vernon Downtown Association Annual Holiday Parade — Silver

The video showcased the Mount Vernon Downtown Association's Annual Holiday Parade, featuring parade clips, Santa moments, and holiday lights.

[Computer Generated illustration] "Lo-Fi" Cardinal Illustration — Silver

A digital illustration of the SVC mascot in the style of the internet famous "Lo-Fi Girl".

[Print Advertisement] Marine Maintenance Technology Program Ad — Silver

Print advertisement showcasing SVC's Marine Maintenance Technology program for the Anacortes Chamber of Commerce.

[Television/Video Paid Advertisement] Cardinal Craft Brewing Academy — Silver

Video Paid Advertisement highlighting SVC's Cardinal Craft Brewing Academy and showcases the beer brewing process.

[Logo Wear] Maestros Para El Pueblo – Silver

Maestros Para El Pueblo's new logo displayed on sweatshirts and T-shirts for their program.

[Television/Video Paid Advertisement] General Transfer Degree — Bronze

Paid Video Advertisement promoting SVC's General Transfer degree, featuring students and our mascot.

[Special Event or Fundraising Campaign] Career Fair – Bronze

Skagit Valley College's Spring 2023 Career Fair

[Flyer] Maestros Para El Pueblo – Bronze

A print flyer highlighting the Maestros Para El Pueblo and how they support Latinx student success on campus.

[Social Media Post] Mitchell's Story – Bronze

Mithell Pawson, a 6-year-old boy from Tacoma, received a 3D printed hand developed by the Manufacturing Engineering club which was documented in an Instagram reel here.
"Winning these awards fills us with a profound sense of humility and pride and is a testament to the high-quality work we've achieved this year," said Marisa Pierce, SVC Executive Director for Strategic Marketing and Communications. "We are humbled by the recognition of our efforts and proud of our ability to accomplish what we've done with our small and mighty team."
According to Pierce, collaboration and communication is the key to these accomplishments and that is an environment that is fostered by each member of the team – which are also two of the college's Guiding Principles.
"This achievement fuels our commitment to continue to help shape the future of education utilizing the collective talents of our creativity, dedication, and unwavering passion for the students and community at SVC," said Pierce.
Under the leadership of Anne Clark, SVC Vice President College Advancement, the SVC Strategic Marketing and Communications Department provides a variety of in-house services and strategic development such as marketing, advertising, internal and external communications, event promotion, graphic design, photography and videography, website, and social media.
Department employees include Nathaniel Soria, creative manager; Peter Goodrich, web administrator; and Sofie Poulton, communications and social media manager.
In addition to winning 25 Medallion Awards, the SVC Strategic Marketing and Communication Department is competing in the national NCMPR Paragon Awards, which will be announced in March.
About the NCMPR organization:  NCMPR has more than 1,550 members from more than 650 colleges across the United States, Canada, and other countries. District 7 consists of community and technical colleges in Alaska, Idaho, Montana, Oregon, Washington, and the Canadian provinces of Alberta, British Columbia, Saskatchewan, and Yukon Territory. The Medallions are the only regional competition that honors excellence exclusively among public relations and marketing professionals at two-year colleges.

Media Contact Info
Sofia Poulton, Communications and Social Media Manager
360.416.7699
[email protected]